Help Others...
By making a donation to Kia Ora! you will be helping to support our valuable work, in enabling people with special needs and learning difficulties to achieve their maximum health potential, through a network of sound professional advice and mutual support.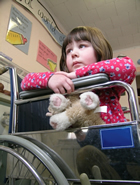 We receive no government grants or any financial assistance from our local authority. Our funding is entirely dependent upon the generosity of donations, and revenues attributed from membership subscriptions.
Simply download our Donation Form and make your donation by cheque or postal order. Simply print it out and fill it in by hand, remembering to sign and date the form before sending it.
Your donation goes further with Gift Aid...
Charities are now able to reclaim the tax you have paid on your donation – currently 28p for every £1 donated – at no extra cost to you! This means if you donate £10.00 we can reclaim £2.80 making your donation to Kia Ora £12.80. All you need to do is tick and sign the gift aid declaration when you make your donation.

Tax Relief ...
If you pay tax at a higher rate you can also benefit from tax relief. You can reclaim the difference between 22% and 40% tax you have paid.
For example, if you give £10 we can reclaim £2.80. You can reclaim another £2.31 so your donation has only cost you £7.69 but is worth £12.80 to Kia Ora.

INVESTaid
Is a new and exciting way to support us where you can invest in our future as well as yours.
INVESTaid allows you to invest in your own future and by doing so you'll get the great feeling that comes from giving us, your chosen charity, much needed help for our future work.
Find out more about INVESTaid click here
What's in it for you?
By purchasing your ISA or Unit Trust through INVESTaid you'll get:
A choice of over 1000 Funds from Leading Brand fund managers in the UK
Discounts on charges
Commission rebates to keep or donate to us
A personal risk profile
The choice of building a bespoke portfolio or opting for a ready made risk rated portfolio
Access to your investments online 24/7
What's in it for us?
You can make personal donations from your rebated commission
Your donation may qualify for Gift Aid
We'll receive corporate donations from INVESTaid when you invest or transfer existing investments to the INVESTaid platform
Invest in your future and our future work by using INVESTaid today please click here for more details.
INVESTaid is a trading name of Sacol Investment Services Limited, The Red House, Bluecoats, Hertford, SG14 1AX which is authorised and regulated by the Financial Services Authority